Jack and John welcome Colleen Miniuk to the show.  High energy and outstanding creativity are the hallmarks of Colleen.  She is first and foremost a fantastic photographer, plus an incredible educator and well published author.  She joins the guys on the program to talk about her recently updated book, Photographing Acadia National Park.  Give this upbeat and engaging podcast a listen!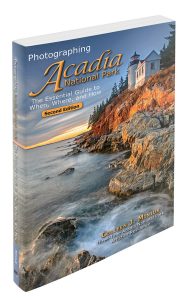 Colleen Bio:
I'm a Corporate-America-escapee turned full-time freelance outdoor photographer, writer, publisher, instructor, and motivational speaker, supporting a wide range of assignments for editorial and commercial clients. Specializing in nature and outdoor recreation, my purpose as an outdoor communicator is to inspire and help others enjoy the Great Outdoors.
My publication credits include National Geographic calendars, Arizona Highways, AAA VIA, On Landscape, National Parks Traveler, Extraordinary Vision, The Smoky Mountain Journal of Photography, Smith-Southwestern calendars, and a broad variety of other publications.
In hopes of encouraging others to enjoy the Great Outdoors, I have authored the award-winning guidebooks, Wild in Arizona: Photographing Arizona's Wildflowers, A Guide to When, Where, & How (1st and 2nd editions). I also authored the instructional eBook, Seeing the Light in Outdoor Photography and acted as the publisher and editor for Wild in Arizona: Photographing Arizona's Wildlife, A Guide to When, Where, & How. I hope to publish my first memoir/travel adventure story, Going with the Flow, in addition to other photography-related titles, in 2020.
I have also served three times as an Artist-in-Residence with Acadia National Park (November 2010, October 2011, and January 2013) which enabled me to author the award-winning guidebook, Photographing Acadia National Park: The Essential Guide to When, Where, and How.
Colleens Website:  http://www.cms-photo.com
Dear Bubbles Blog: http://dearbubbles.com
The We Talk Photo podcast is dedicated to being an entertaining, informative and lighthearted discussion about a wide range of photographic topics centered around landscape and nature photography.  Hosted by Jack Graham and John Pedersen, long time industry professionals, they will bring you in to their conversations about gear, recent trends, insightful interviews with industry leaders as well as entertaining stories from their collective experience in the photography business.
Podcast: Play in new window | Download
Subscribe: Google Podcasts | Email | RSS | More