Jack and John welcome Erin Babnik to the show.     Erin is a Canon Explorer of Light, member of Photo Cascadia and accomplished international workshop leader.  Listen as Jack and John explore her motivations and experiences as well as her perspectives on her photography and teaching others.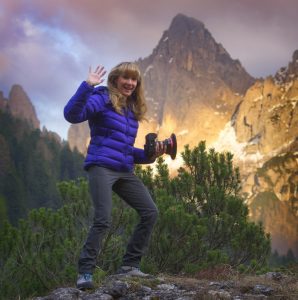 Erin Babnik is known internationally as a leading photographic artist, educator, writer, and speaker. Her ambitious and expressive style of landscape photography brings together an unusual integration of adventurous exploration, progressive techniques, and formal education in the arts. In her writing and public speaking, Erin explores topics with a unique blend of art historical, philosophical, and instructional ideas, an approach that has made her one of the most notable voices among the current generation of landscape photographers.
Erin's dedication to the medium of photography evolved out of her years working as an art historian, photographing at archaeological sites and in museums for the purposes of teaching and research. Previously, she had experimented with photography creatively in art school, working with both film and early digital cameras to explore the potential for photography to communicate ideas in graphic design projects. Full immersion in the art of photography would come some years later, however. After transferring to UC Berkeley's Ph.D. program in Art History, she began to produce photographs for her dissertation and for lecturing as an instructor of undergraduate courses. It was at this point that her interest in photography became an obsession. Her goal of producing a high-quality archive of photographs for educational purposes ultimately led to the pursuit of compelling images as ends in themselves.
Erins Website:  https://erinbabnick.com
The We Talk Photo podcast is dedicated to being an entertaining, informative and lighthearted discussion about a wide range of photographic topics centered around landscape and nature photography.  Hosted by Jack Graham and John Pedersen, long time industry professionals, they will bring you in to their conversations about gear, recent trends, insightful interviews with industry leaders as well as entertaining stories from their collective experience in the photography business.
Podcast: Play in new window | Download
Subscribe: Google Podcasts | Email | RSS | More