On this very special episode, we welcome 6 of the 7 members of Photo Cascadia to talk about their new book, Washington Evergreen, Land of Natural Wonders.  These folks are always busy and it is a huge accomplishment to get so many of them all on the program with us.  Joining us in this episode are Sean Bagshaw, David Cobb, Erin Babnik, Kevin McNeal, Adrian Klein and Zack Schnepf.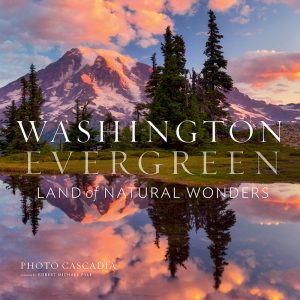 Their new book is a follow-up to their previous Book, Oregon My Oregon, Land of Natural Wonders and is one of the most complete photo compilations of the amazingly beautiful state of Washington.  Hear them tell about how the book came to be and what it took to bring together so many amazing images.   With a forward by Robert Michael Pyle, this is THE definitive photo compendium of beautiful Washington State.
The book is available for pre-order on Timber Press:  Click HERE for more information.  At only $30 for 244 pages, this is such an amazing deal.
Photo Casdia Website: https://www.photocascadia.com
The We Talk Photo podcast is dedicated to being an entertaining, informative and lighthearted discussion about a wide range of photographic topics centered around landscape and nature photography.  Hosted by Jack Graham and John Pedersen, long time industry professionals, they will bring you in to their conversations about gear, recent trends, insightful interviews with industry leaders as well as entertaining stories from their collective experience in the photography business.
Podcast: Play in new window | Download
Subscribe: Google Podcasts | Email | RSS | More