Jack & John welcome one of the most exciting and insightful creators, artist, photographer and writers today, Guy Tal. Guy has produced an incredibly amazing body of work, both visually and written about photography and life. Guy is one of the most vivid and introspective thinkers who has an innate ability to transfer his thoughts to the photograph or written page.
Guy recently released his latest book, titled Another Day Not Wasted.In this latest podcast, we discuss this book with Guy as well as his philosophy on many different subjects. It's an always-engaging discussion when Guy visits the show!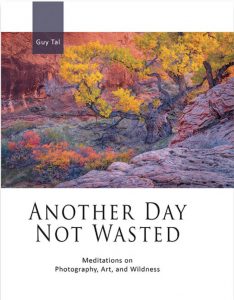 Reflecting on his years after leaving a lucrative but unsatisfying career to become a full-time creative photographer, writer, and wilderness explorer, Guy Tal shares with readers some of the experiences and lessons that marked his journey. Building on the success of his earlier book, More Than A Rock, Guy offers readers yet deeper insights into his life as an independent artist, his thoughts about photography as a form of art and as a means to a richer and more rewarding life, and his intimate relationship with nature and with his beloved desert – The Colorado Plateau.
Visit Guys Website – www.guytal.com
Purchase Another Day Not Wasted
On Guys Site: HERE
On Amazon: HERE
The We Talk Photo podcast is dedicated to being an entertaining, informative and lighthearted discussion about a wide range of photographic topics centered around landscape and nature photography. Hosted by Jack Graham and John Pedersen, long time industry professionals, they will bring you in to their conversations about gear, recent trends, insightful interviews with industry leaders as well as entertaining stories from their collective experience in the photography business.
Podcast: Play in new window | Download
Subscribe: Google Podcasts | Email | RSS | More