Jack and John welcome Kevin McNeal to the show.  Kevin is known for his dramatic landscapes, use of color and never-stop attitude for pursuing compelling images.  Listen in as we talk with Kevin about his recent travels around the globe and his philosophy for how he approaches his art.
Kevin McNeal is a Washington St. photographer focusing on grand colorful landscapes that reflect the most unique places on earth.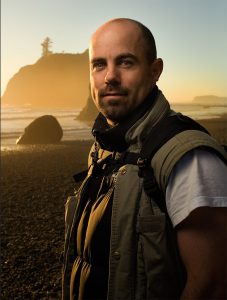 Capturing moments of magic light and transferring this on print, images behold a combination of perseverance, patience, and dedication to capture the images in ways unseen before. The stories of how these images are rendered come across in the feelings the images convey. Traveling all over North America with his wife by his side, shooting diverse landscapes and finding remote places to bring the message to the public that this Earth is worth saving. His award winning images can be seen in galleries and showings across the United States, and was recently selected to the Art Wolfe Art Gallery for the Environmental Photography Invitational. As well Kevin was the grand winner of the Landscape category for the Natures Best Magazine and was selected for the Smithsonian National Museum of History in Washington D.C..
Artist Statement
" I believe that the Earth shares secrets with us that only can be discovered by trying to understand our position on this planet. We are never fully intimate with the planet but are given brief moments that make our souls want more. These glimpses of nature's power are fleeting and never the same twice. I also believe it is important to share with those who want it. The treasures that await us given the patience that is out there. What I try to do is bring some of that magic to my images to share with the rest of the world. Each of my images tells a story that everyone can relate to in some way whether is was success, fear, or challenging oneself to overcome obstacles
Kevins Website: https://www.kevinmcnealphotography.com
The We Talk Photo podcast is dedicated to being an entertaining, informative and lighthearted discussion about a wide range of photographic topics centered around landscape and nature photography.  Hosted by Jack Graham and John Pedersen, long time industry professionals, they will bring you in to their conversations about gear, recent trends, insightful interviews with industry leaders as well as entertaining stories from their collective experience in the photography business.
Podcast: Play in new window | Download
Subscribe: Google Podcasts | Email | RSS | More