Jack & John welcome Dan Bailey to the podcast.    Dan is based in Alaska and a Fuji X photographer who focuses on landscape, aerial and cycling/adventure photography.  An Avid mountain biker, Dan travels extensively to photograph and ride and amass more experiences to add to his wealth of knowledge and skills. Listen in to this engaging conversation with Dan and learn how he approaches his creative work.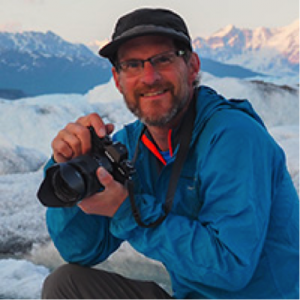 Dans Bio:
I'm Dan Bailey, a professional outdoor, adventure and travel photographer and official FUJIFILM X-Photographer based in Anchorage, Alaska. My work has been published by clients worldwide, including Fujifilm, Nikon, Fidelity Investments, General Dynamics, British Petroleum, Outside Magazine, Coleman, Discovery Channel Publications, National Geographic Adventure, The New York Times, Alaska Airlines and Patagonia. I have also written articles for Digital Photo Pro and Outdoor Photographer, I teach online photography courses at The Compelling Image, and was the Senior Contributor to The Photoletariat for two years.
My own passion for adventure usually places me right alongside my subjects, which allows me to share in their experiences firsthand as I shoot. In that way my photography has become a vehicle for a life of exploration and documenting expeditions, cultures and landscapes around the world.
The We Talk Photo podcast is dedicated to being an entertaining, informative and lighthearted discussion about a wide range of photographic topics centered around landscape and nature photography.  Hosted by Jack Graham and John Pedersen, long time industry professionals, they will bring you in to their conversations about gear, recent trends, insightful interviews with industry leaders as well as entertaining stories from their collective experience in the photography business.
Podcast: Play in new window | Download
Subscribe: Google Podcasts | Email | RSS | More