Jack & John welcome one of the most exciting and insightful creators, artist, photographer and writers today, Guy Tal.  Guy has produced an incredibly amazing body of work, both visually and written about photography and life.  Guy is one of the most vivid and introspective thinkers who has an innate ability to transfer his thoughts to the photograph or written page.
Guy is joining us today to talk about his latest book, called The Interior Landscape. Building on the legacy of his previous best-selling books More Than a Rock and Another Day Not Wasted, as well as his work as a regular contributor to LensWork and On Landscape magazines, The Interior Landscape is a collection of more than 60 brief essays, packaged in a beautiful hardcover format and illustrated throughout with Guy's stunning photography.
Organized into four parts, Guy discusses:
Creativity and expression as the most significant aspects of making art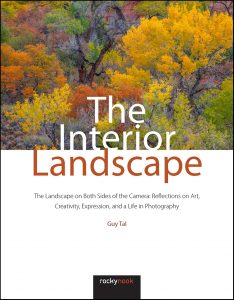 The controversial and tenuous relationship between photography (by design a medium for objective representation) and art (by definition the subjective expressions of the imagination of artists)
How he has formed a relationship with, and found meaning in, the natural landscape, and how he expresses these meanings in his photographs
Lessons learned from more than three decades of practicing expressive landscape photography
The Interior Landscape is for anyone interested in, as the title suggests, turning inward to explore creativity, art, expression, and the landscape. It is sure to illuminate, educate, and inspire you on your photographic journey.
Visit Guys Website – www.guytal.com
To order Guys new book, you can get the ebook edition from Rocky Nook or Amazon. If you want an autographed printed version, visit Guys site when the hardcover is available later this year.
The Interior Landscape e-book
            On Rocky Nook: HERE
            On Amazon: HERE
The We Talk Photo podcast is dedicated to being an entertaining, informative and lighthearted discussion about a wide range of photographic topics centered around landscape and nature photography.  Hosted by Jack Graham and John Pedersen, long time industry professionals, they will bring you in to their conversations about gear, recent trends, insightful interviews with industry leaders as well as entertaining stories from their collective experience in the photography business.
Podcast: Play in new window | Download
Subscribe: Google Podcasts | Email | RSS | More