Jack and John welcome Peter Lerro to the show.  Peter is an fantastic workshop experience leader who is known for his thorough preparation and execution on the photo experiences he organizes.  Steam locomotives, WWII, lighthouses and even air to air photo shoots, Peter aims to set the stage for realistic period correct photos for his clients.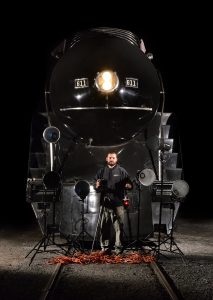 Pete Lerro III is a college graduate of Temple University in Pennsylvania where he studied video audio and photography. Lerro is currently a full-time professional photographer and owner at Lerro Photography. When Lerro is not on assignment, he organizes photo workshops across the country and more. His photography expertise includes family, portraits, commercials, products, landscapes, wedding and sports. Throughout his career he has shot for many major establishments including the Department of Homeland Security, NFL, NBA, NHL, USA Gymnastics, IRL and Spartan Race.
Lerro's photo workshops offer a wide variety of informative experience. With these unique kinds of workshops, guests can expect special access, private photo sessions, and a night of professional photography seminars. Imagine sitting in a guided tour dated back to the early 1940's, World War II props and actors surrounding you, watching photographers capture the enlightened pioneer era specializing in portraits and human interests.
Peters Website:  https://www.lerrophotography.com
Air to Air Photo Shoot Video:  WATCH HERE
The We Talk Photo podcast is dedicated to being an entertaining, informative and lighthearted discussion about a wide range of photographic topics centered around landscape and nature photography.  Hosted by Jack Graham and John Pedersen, long time industry professionals, they will bring you in to their conversations about gear, recent trends, insightful interviews with industry leaders as well as entertaining stories from their collective experience in the photography business.
Podcast: Play in new window | Download
Subscribe: Google Podcasts | Email | RSS | More