Jack and John welcome the always entertaining Miles Morgan.  Listen in as we talk about Miles experience and what inspires him to create the images he does.
Miles Bio:
"We" are a small group of amateur Fine Art Landscape Photographers located in the beautiful Pacific Northwest; Portland, Oregon to be more precise. By "we", I mean "me", and by small, I mean a group of 1. And when I say "Photographer", what I really mean is that I'm actually an airline pilot who occasionally goes out and takes a few snapshots hoping that something pretty will get in the way of my lens.
My father, Hank Morgan, is a successful photojournalist, so I've always had cameras close by, but I never took the time to learn much about them.  It wasn't until April, 2009, that I decided that I wanted to try my hand at landscape photography. Very quickly I became hooked and have been trying hard to hone my skills both in the field and in Photoshop to produce images that are pleasing. My father used his photography to capture my most embarrassing moments as you can see.   Now, as a Dad myself, I'm looking forward to doing the same thing to my daughter!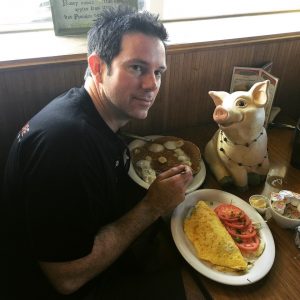 Miles Website: https://milesmorganphotography.com
Instagram: @milesmorganphotography
Nightscaper Conference:    http://nightscaper.weebly.com
The We Talk Photo podcast is dedicated to being an entertaining, informative and lighthearted discussion about a wide range of photographic topics centered around landscape and nature photography.  Hosted by Jack Graham and John Pedersen, long time industry professionals, they will bring you in to their conversations about gear, recent trends, insightful interviews with industry leaders as well as entertaining stories from their collective experience in the photography business.
Podcast: Play in new window | Download
Subscribe: Google Podcasts | Email | RSS | More