Jack & John welcome  one of the most exciting and insightful creators, artist, photographer and writer today, Guy Tal.  Guy has produced an incredibly amazing body of work, both visually and verbally about photography, creativity and life.  Guy is one of the most vivid and introspective thinkers who has an innate ability to transfer his thoughts to the photograph or written page. Guy discusses his philosophy for how he approaches his creative work and then how he executes the work to achieve his vision.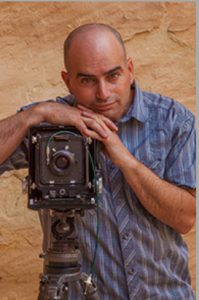 Guys Bio: I am a professional artist, author, photographer, and educator. I believe that the practice of creative pursuits manifests not only in the making of art, but also has the ability to transform and enrich life, facilitate meaningful and rewarding experiences, and foster contentment and satisfaction through lifelong discovery and learning.
Artist Statement
I do not consider myself a photographer who creates art, but rather an artist working in the medium of photography.
In photography I strive to create images that speak to wildness – the quality of being attuned to, and inspired by, the wild. I consider my work to be expressive art, in the sense that its primary purpose is to offer visual metaphors for thoughts and feelings, rather than to document appearances.
I work primarily in the landscape of my home, the high deserts of the Colorado Plateau. Over a period now spanning more than two decades, these places have become very meaningful to me; and my relationship with some of them has become as complex as any I have had with another human being. Rather than glimpses of the superficial beauty of the land, I wish instead for my work to speak to a deep familiarity with my subjects, revealing something of my reverence for them and the roles they play in my life. The things I photograph are not just attractive models to me; they are also temples and sanctuaries and multi-dimensional characters in my own story, as I am (surely to a lesser degree) in theirs.
The We Talk Photo podcast is dedicated to being an entertaining, informative and lighthearted discussion about a wide range of photographic topics centered around landscape and nature photography.  Hosted by Jack Graham and John Pedersen, long time industry professionals, they will bring you in to their conversations about gear, recent trends, insightful interviews with industry leaders as well as entertaining stories from their collective experience in the photography business. 
Podcast: Play in new window | Download
Subscribe: Google Podcasts | Email | RSS | More